The experiment is currently not available!
Dancing Liquid
File loaded:
no file
drag files here or click here
Do and observe:
Upkoad your mp3 file and press the play button.
Listen to the music and observe the video of the liquid in the small cups.

What happened?
There is a magnetic liquid in the basin under the translucent cover. The liquid's special property makes it attracted by a magnet. A magnetic field can be created by an electric current—this is called an electromagnet. There are 25 electromagnets under the basin, being switched on and off by the music you're listening to. An electronic circuit in the box makes some electromagnets respond more to higher tones and others more to lower tones. Thus the music makes the liquid in the basin literally dance.
More...
The magnetic liquid is full of tiny particles that are attracted by a magneti — say iron. To make sure the particles don't stick to one another every particle is surrounded by a protective layer. In this way the liquid remains fully liquefied even when the particles are attracted to one another by a magnetic force.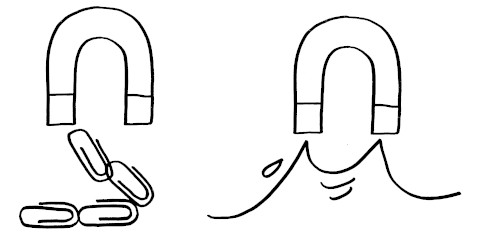 Did you know?
Magnetic liquids are used in special speakers as well as in liquid gaskets that stay in place because of the action of a magnetic field.